Salam Aidilfitri 2009 untuk semua yang membaca atau terbaca blog ini. Saya juga ingin memohon ampun dan maaf jika selama setahun ini saya ada terkasar bahasa yang menyebabkan anda semua kecewa atau terguris perasaan. Harap-harap tahun depan kita boleh bersua lagi dengan Ramadhan dan sekali lagi menyambut aidilfitri bersama-sama.
Aidilfitri tahun ini saya dan keluarga hanya menyambut secara sederhana. Berpijak pada bumi yang nyata. Saya juga agak sibuk dengan kerja yang menimbun-nimbun dan segalanya perlu di selesaikan sebelum cuti raya yang panjang. Tahap tensi agak tinggi. Hampir setiap hari saya bekerja tanpa mengambil 30 minit rehat pon. Semuanya di lakukan demi menyambut hari raya 2009.
Beberapa hari sebelum raya, saya dan Honey menyambut ulangtahun ke 9 perkahwinan kami. Maaf, tiada gambar kerana hujan dan saya pula demam selsema.
Malam raya hingga ke pagi raya kami berada di rumah si Kembar kerana PIL berada di sana. Selepas pukul 10:00am barulah kami bertolak semula ke Klang untuk menyambut raya bersama keluarga di Klang.
Kira-kira 12:00pm, kami bertolak ke Kajang pula. Saya suka benar menyambut raya di sini. Saya boleh buat perangai buruk lantak. Di Kajang inilah tempat berkumpulnya sanak saudara Baharudin (Arwah datuk saya). Lagi pula 3 mak saudara saya ni berjiran. Senang nak melawat setiap rumah.
Kami sempat juga menyinggah ke rumah pusaka di Dusun Tua. Tapi gambar dan cerita detailsnya saya akan update di tajuk yang lain. Saya akan explain kenapa lar di pagi raya saya elok berkebaya dan berkain batik alih-alih separuh jalan saya berseluar jeans saje. Emh..malu.
Oh..saya juga tiada gambar The Naim's family dan cerita tentang raya di Ipoh. Ada masalah teknikal.
Apa-apa pun harap semua orang enjoy beraya..
P/S : Sepanjang raya demam selsema. Sekarang tengah pusing sebab baru makan ubat selsema..so kena sambung cerita raya esok saje. Gambar lain saya sudah upload di FB.
The Baharudin's Family.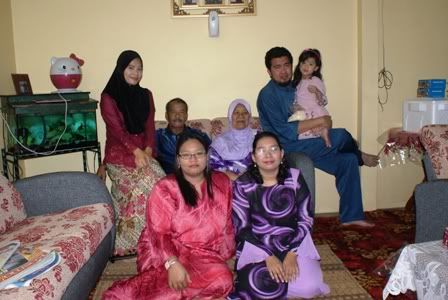 The Abd Aziz's Family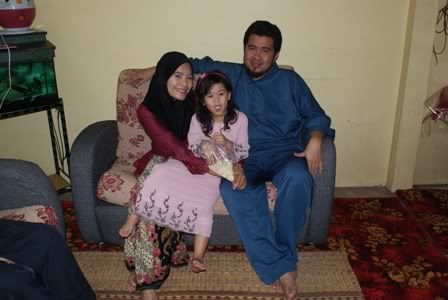 The Iznil's Family.